Greetings!
We here at Gigaloaf Labs are proud of the many technological breakthroughs that we have made through our efforts to better understand the mysterious Warp Coins. Our latest technological leap comes in the form of a new device called the X-plainer. This pocket-sized wonder allows us to communicate between unfathomable distances across the known Flipverse.
We have tasked our best explorer, Ripley, to seek out peaceful societies within the Land of Munchmore and setup a productive level of communication with these potential allies.
Ripley's Mission is as follows:
Meet up with Sprout at the Teaberry Outpost located on the outskirts of Wintergreen Way.
Travel with Sprout to the Pepita Prairie and introduce yourselves to the local inhabitants known as the Gourdos.
Deliver an X-plainer to the Gourdos, and teach them how to properly work the device.
Always Report your progress to Gigaloaf Labs using your own personal X-plainer.
Map and catalog any interesting plants, snackimals, and notable landmarks along the way.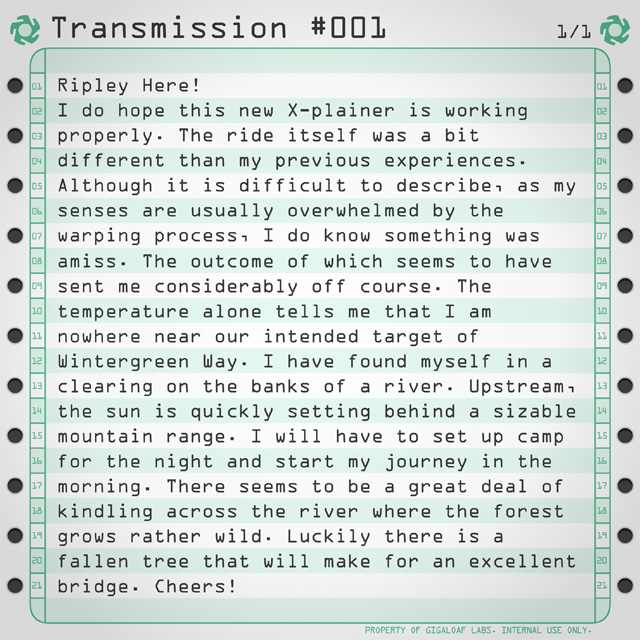 Hey Everyone!
This is a fun little diversion where you, the fans, can help Ripley complete her mission through the Land of Munchmore. Ripley will occasionally send transmissions back to Gigaloaf Labs using her handy dandy X-splainer. After each transmission, you will help guide Ripley along her journey by Gigaloaf Command Center Twitter polls. The story is not predetermined, and this is not a lead up to any sort of future game. We're just having fun and seeing where the story goes, so vote now:
Gigaloaf Labs Comand Center:
Which way should Ripley Go?

— Flipline Studios (@FliplineStudios) February 2, 2023
Comments
Powered by Facebook Comments