Swindler 2
Swindler is back for a bigger and better drop and roll puzzle filled adventure! Play Now!
Bunny Cannon
Aim and launch the ever-multiplying bunnies from your cannon to fill all the baskets in each level.
Play Now!
Llama in Your Face
You are the most awesome llama in the zoo! Use your amazing spit powers to defend yourself against hordes of annyoing zoo visitors. Spit right into their face and make them pay for trying to invade your trampoline cage! Play Now!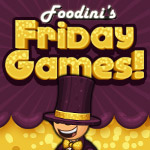 Comments
Powered by Facebook Comments