Karting Super Go
A cartoon karting game featuring pirates, ninjas, robots, cowboys and aliens. Race in 3 leagues upgrade your kart and unlock new karts. 9 tracks, upgrades and different cars to unlock. Play Now!
Paintworld 2
Monsters have landed and decimated all of PaintWorld. Launch paint-guys to connect them all in spite of the huge monsters.
Play Now!
Accurate Boy
Use a plunger-gun to retrieve a pirate ship toy in this unique physics-based puzzle game. Play Now!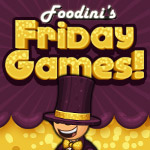 Comments
Powered by Facebook Comments