Question 1:
How do you make the music for your games?
Answer 1:
For most of our games, we compose and record the music ourselves using a MIDI keyboard and software in our small recording booth here at Flipline Studios. The keyboard lets us play notes (like you would on a piano), and the computer records each of those notes and lets us make changes to them later in the software. This way, we can make it sound like any instrument we need, and we only have to use the keyboard to record them all. We only record one instrument part at a time, so it can take a while to record all the parts for a complete song.
Question 2:
Why is Papa Louie a pizza chef?
Answer 2:
For our first Papa Louie game, we wanted to create a character that had a unique way of fighting enemies in the level, instead of jump stomping on enemies like in most platformers. We thought about our hero being able to hit projectiles back at enemies (which eventually became Pizza Monsters spitting cheese), so we tried to think of a swinging weapon that would also relate to the main character. Hammers and baseball bats had been used in a bunch of other games, so when we finally thought of a pizza paddle we knew we had to make our hero a pizza chef! That decision also led to the monsters coming from pizzas, and other enemies being ingredients that you use on pizzas, with the whole game revolving around Papa Louie being a chef.
Question 3:
Why can't customers eat at tables?
Answer 3:
The lobby can get pretty filled up with all of the customers waiting in line, and all of the furniture and decorations that you can place in the lobby. The main reason is that there's just not much room to have customers staying in the lobby after they get their food!
If you have any other questions, click the "Ask a Question!" button at the bottom of the blog!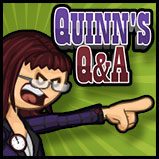 Comments
Powered by Facebook Comments