Zombie Goes Up
Zombies are bored and they want to get out of their graves to say hi. Help them to reach the surface! Play Now!
Haunt the House
What was that? You awaken to find your once quiet house is full of noisy party guests! Can't a ghost haunt in peace?
Play Now!
Royal Offense
Various castles in the kingdom are being attacked by numerous vicious creatues! Set out a strategic plan and decide which of your allies should fight the enemy. Play Now!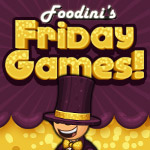 Comments
Powered by Facebook Comments