Hey Everyone!
Good news, Papa's Freezeria To Go is in the play-testing phase! The game is fully functional, and now we are just playing it like crazy while fixing any bugs that pop up along the way. For today's Sneak Peek, we wanted to show off the Top Station for Papa's Freezeria To Go!
With Papa's Freezeria To Go being for small-screened, mobile devices, we needed the Top Station to work similar to the Build Station in Papa's Burgeria To Go. This allows for precise topping, without your fingers getting in the way of the action. The difference between Burgeria and Freezeria is that Freezeria has syrups, sprinkles, and cream that need to be spread across the sundae and not simply dropped onto a burger. So now when you line up a syrup/cream/sprinkle instead of just tapping the sundae to make them fall, you will actually drag the sundae left and right while the toppings fall.
The Top Station is divided into several steps. The first step is to pick and pour the cream. With the creams being a separate step, this allowed us to add more flavors beyond just whipped cream and chocolate mousse!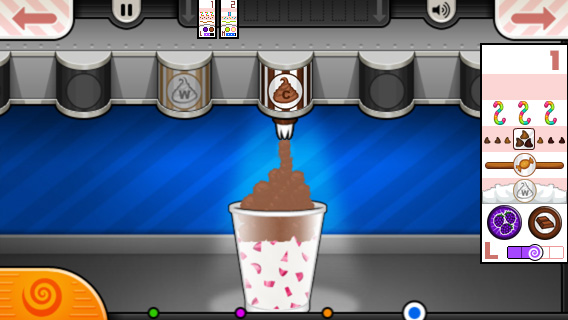 After you have poured the cream, it will automatically move onto the next step which is adding the remaining ingredients. The ingredients are divided into two categories; Pourables and Placeables. The Pourables consist of  syrups and shakers that require you to move the sundae left and right as they pour down.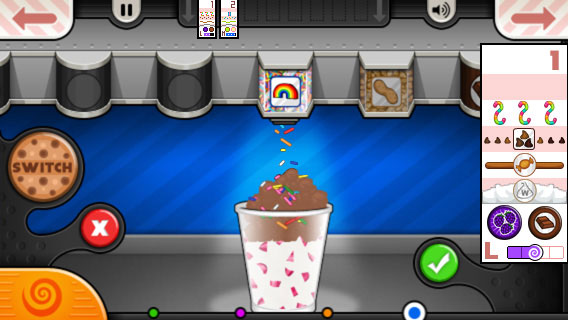 You can switch between Pourables and Placeables at any point by pressing the Switch button on the left hand side. Placeables need to be lined up according to the correct position according to the order ticket. Once the topping is lined up, just simply tap the sundae to drop it in place.  When you are all finished, just click the green check button and drag the correct ticket down to the ticket holder.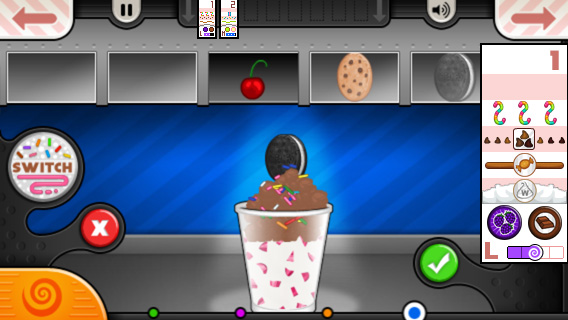 Stay tuned for more information on Papa's Freezeria To Go!
Comments
Powered by Facebook Comments