Question 1:
What does Blue Moon Syrup taste like (in Papa's Freezeria HD)?
Answer 1:
Blue Moon flavored ice cream is popular in the midwestern United States, and it's a very sweet fruit flavor, though it's hard to describe what kind of fruit it tastes like. Some people say it tastes like a blend of raspberry, lemon, and pineapple, or kind of like a fruit-flavored cereal.
Question 2:
What happens when a customer earns a Gold Award and their star meter is filled up?
Answer 2:
You'll get extra tips from the customer each time their meter is filled, even if they're already a gold customer. Once they're gold, customers won't come into the restaurants as often, so you have a chance to earn Gold Awards on your other customers. Once nearly everyone has a Gold Award though (or on a customer's favorite holiday in the newer games), gold customers will return again!
Question 3:
Why is Xolo a regular customer in Papa's Freezeria HD, instead of a closer like in every other game?
Answer 3:
In Papa's Freezeria HD, the original closers from Papa's Freezeria return to the restaurant, so his sister Xandra takes back her place as an ice cream closer. Xolo couldn't be left out though, so he makes his debut visit to Calypso Island in Papa's Freezeria HD as a regular customer. It seems that Xandra is just more picky about her sundaes than her brother is!
If you have any other questions, click the "Ask a Question!" button at the bottom of the blog!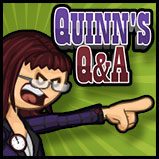 Comments
Powered by Facebook Comments