Spy Bear
Spy Bear: the greatest secret animal agent in the world! Use physics, guns and some minor explosives to solve puzzles and defeat your enemies! Play Now!
Quebrix
Prepare to check your logical thinking! Restore each picture by sliding the four parts across the game board. You can move the pieces vertically and horizontally.
Play Now!
Mummy's Path
Mummy's head is missing! You must roll it back to it's patiently waiting body while collecting as many diamonds as possible. Play Now!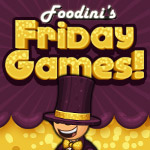 Comments
Powered by Facebook Comments