Transmorpher 3
Explore an alien Pyramid and absorb various creatures try to reach each exit and escape. You can use forms and abilities of absorbed creatures to pass various game levels, solve simple and interesting puzzles. Play Now!
Shape Shifter 2
An elephant, a mouse, and a rabbit were transformed into one strange, shape-shifting creature. After learning to live together as one, they encounter the wizard who transformed them. Help them find the wizard!!
Play Now!
Love Burger
It's Valentine's Day and Keith is on another shift at the local Love Burger. When an adorable couple walks in seeking some chocolate treats, Keith needs to improvise something fast, or else his work place will turn into chaos. Play Now!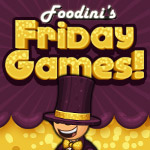 Comments
Powered by Facebook Comments