Happy New Year everyone!
It's been a busy few weeks for us here at Flipline. My wife Mandi and I (Tony), just had two identical twin girls over the holiday break! Flipline has also been hard at work on two new games, with a third in the planning stages! We'll be showing off some more sneak peaks in the weeks to come. 2011 was a great year for Flipline Studios, we got some fun new Gamerias out, and introduced the world to Cactus McCoy. It seems as if our hard work has paid off, because two of our games have been nominated for the best of 2011 over at Jay-is-Games!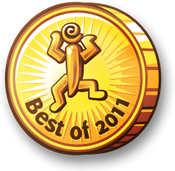 Please Vote for our games!
Best Action-Platform: Cactus McCoy
Best Simulation or Strategy: Papa's Freezeria
You can vote once every day, and don't forget to check the blue box
to cast your vote for the game of the year!
Comments
Powered by Facebook Comments