The Big Pig Game
Help Big Pig eat all of the food and obtain the legendary pancakes! Get a new powerup with each food you eat to solve the puzzles along the way. Good luck and have fun! Play Now!
Mutant Fighting Cup 2016
Mutant Fighting Cup is back by popular demand, with new content for 2016! This time, play as the creepy Cat character and unleash your feline fury upon the mutant enemies!
Play Now!
Raiders Took My Dog
You must rescue your dog, Scraps, from the heartless Raiders. Upgrade your weapons, and fight your way through the nuclear wastelands. Play Now!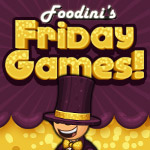 Comments
Powered by Facebook Comments