Hey Everyone,
Surprise… we are doing another sneak peek this week! Today we are showing off the Build Station in Papa's Sushiria!
After you have cooked your rice and spread it over the Nori Paper, you'll head over to the Build Station.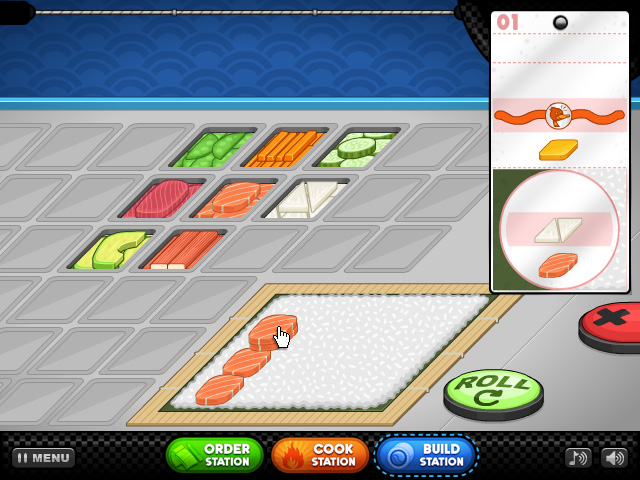 You'll notice on the bottom of the ticket there is a circle, to the left is the Nori Paper and to the right is the rice. The toppings inside that circle are the Fillings. When you first get to the Build Station, the bins will open up to display all of your available filling ingredients. This customer wants his sushi roll filled with Salmon and Cream Cheese slices. When you drag a topping from a bin to the rice, you'll be grabbing a whole stack of toppings. The amount of toppings in each stack depends on how long the topping is. You will then have to evenly place all the pieces of that topping before moving onto the next.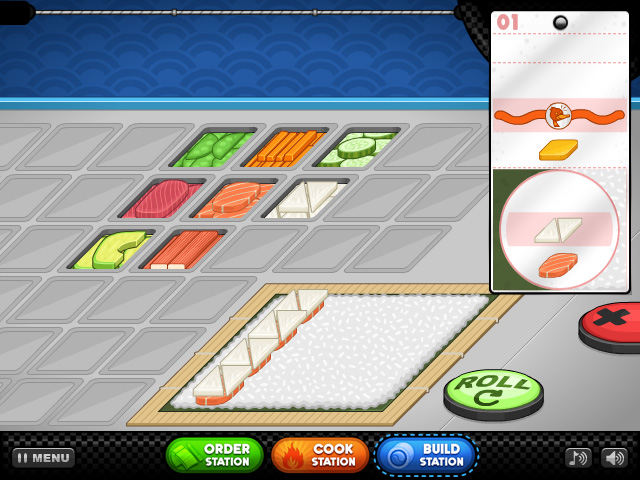 Once you have placed all your Fillings on the rice, simply press the Roll button to watch your sushi get quickly rolled up. After that, the Filling bins will close up, and the Topping ingredients will arrive.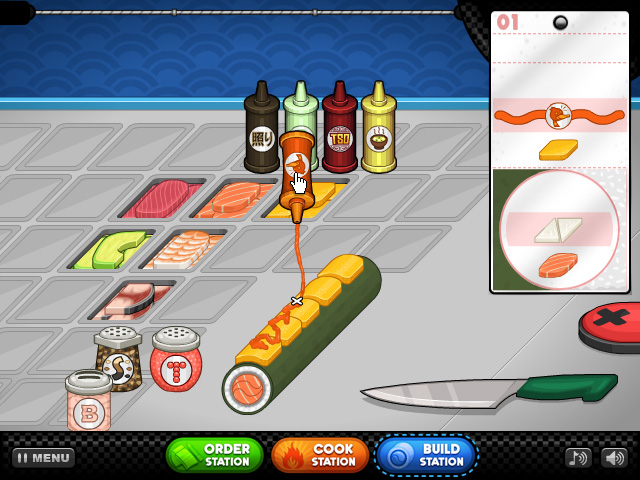 Oh man, look at all those Toppings already unlocked from the get-go. That can mean only one thing… there's going to be TONS of ingredients to unlock (over 145)!
So this customer wants Sliced Mango and Duck Sauce on there Sushi Roll. You'll place the Mango just as you would the Fillings. Then you will Drizzle the Sauce over the roll like you have in other games.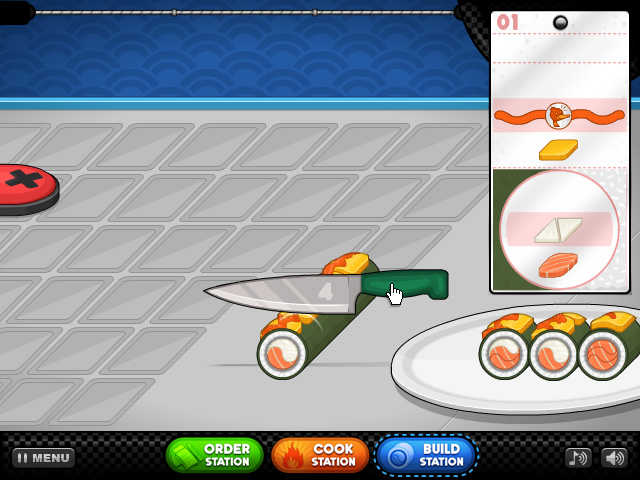 The final step is to cut the sushi into bite size pieces. To do this, simply grab the knife and start slicing away. The sushi will need to be cut into 8 pieces, so try to make them all the same size. Don't worry, I hear there's a cutting guide you can buy in the shop. You will also notice that as you cut, you will see a real cross section of the sushi. Now ideally, all the cross sections should look roughly the same to get a great score. But for this example, I laid out the Salmon and Cream Cheese a little sloppy so you can see the true level of detail we put into this game. Once you have made all the slices, your sushi is finished!
Stay tuned for more sneak peeks of Papa's Sushiria!
Comments
Powered by Facebook Comments