Babysitting Fun
Anthony's father is an explorer. Tonight, while Anthony's parents are away, it's Anthony's chance to snoop around and find some hidden treasures. Play Now!
Jump Out! Workshop
Help the cute critters escape certain doom as they leap and scurry into little crevices. Save each one now!
Play Now!
Wonderputt
(classic) Adventure golf… but with cows, toads, ski slopes, torpedos and a sprinkle of alien abduction for good measure. Play Now!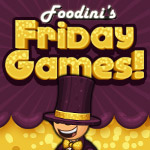 Comments
Powered by Facebook Comments