The Ritual
Gideon and Joe are about to perform a ritual that might help them raise their grades, but to do it they must first find three items. Play Now!
Weirdtris
(classic) Weirdtris is a peculiar mash up of tetris and match-3 with some gravity added to the mix. Destroy all block or just a required amount to complete each level, but be warned! Think before you place a block, as you might get stuck!
Play Now!
Dirk Valentine
(classic) The year is 1897. For five long years, Europe has been ravaged by Baron Battenberg's Steampowered war machines. All hope lies in the hand(and claw) of Dirk Valentine, Britain's greatest explorer, spy and master of esoteric fighting arts. Play Now!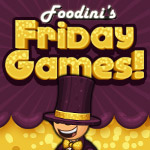 Comments
Powered by Facebook Comments