Yellow
Can you make the screen yellow in all 25 levels? Each level has its own logic. Play Now!
Twin Shot 2
(classic) Once in a generation they come to wreak havoc on our land. But with each passing, twin heroes are born to defend the kingdom! Will the new champions be able to banish them back once more?
Play Now!
Keeper of the Grove
(classic) Greedy creatures are on the way to rob the magic grove and you need to stop them. Grow unique nature defenders to keep the crystals from being stolen. Play Now!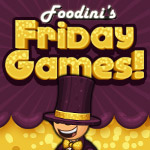 Comments
Powered by Facebook Comments