Fat Cat
Simultaneously control Fat Cat and Owl as they fly, shoot, and burp their way through 21 intense levels. You'll need to have quick reflexes and a sharp eye to protect Fat Cat from the endless waves of enemies while solving many high-flying puzzles. Play Now!
Kamikaze Pigs
Join the fun in this fresh take on the chain reaction game genre, and send these porkers to their doom with a soft bang and a loud SQUEE!
Play Now!
Harry Quantum 2
Harry Quantum PI is back, this time to solve a case for wrestling champion SuperBurro. Framed for a crime he didn't commit harry has to find out who stole the artifacts from the zaztec museum and clear his name. Play Now!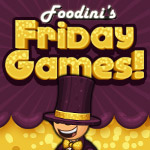 Comments
Powered by Facebook Comments