Hambo 2
Hambo is back, this time in Chicago trying to clean the swines out of the city using a variety of weapons. Can you get to to Pig Capone's stronghold and deliver him an explosive pineapple!?! Play Now!
Chisel
Help the chiseller cut those mineral rich planets down to size.
Play Now!
Icy Fishes
A fun chain reaction game with underwater strategy. Help the octopus rescue the fish from ice balls then… eat 'em! Play Now!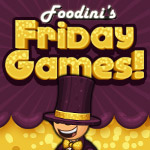 Comments
Powered by Facebook Comments