Hey Everyone!
To celebrate OnionFest, we have an extra-special Flipline Rewind for all of you!
It was January 2007 when we decided to start work on a sequel/spin-off of Papa Louie: When Pizzas Attack! We wanted to focus on Papa Louie's main antagonist, Sergeant Crushida Pepper. We now simply refer to him as Sarge.
We wanted the player to see things from the perspective of Sarge immediately after the biggest defeat of his career by Papa Louie. Sarge was demoted in the Onion Army and put on recruitment duty by the Army General.
In order to rise through the ranks and bring glory back to his name, Sarge needed to rebuild the Onion Army one recruit at a time.
This puzzle-platformer was going to be structured around picking up and throwing things. He would recruit new onions by pulling them out of the ground, and use them in battle by tossing them around. Along his journey, he would come across a wide variety of onions. One such group of onions were Rocket Onions. You may have seen them in a past holiday post. Fun fact: our customer, Boomer, was created based off of our old designs for the Rocket Onion.

Some old friends and fresh enemies were to also set to make appearances in the game. Radley Madish was originally created for this game, and was to be the mad scientist who created Rocket Onions.  Ever wonder why Jellybacks seem a little out-of-place in our games? That's because they were designed for Sarge's game, and at the time, we had planned out a world that wasn't entirely made up of food-based baddies.

At the time, Flash games were still at their infancy and they were still a few years from reaching their peek. During that time, many companies and portals were experimenting with different ways to monetize Flash games. While ad-revenue was just starting to pick up for Flash games, the emerging concept of Microtrans for free games were being beta tested in the form of Kongregate's Kreds and Mochi Media's Mochi-Coins.
By the end of planning, we had decided on an episodic style for the game. As Papa Louie's ad revenue was not sustainable at the time, we decided that Sarge's game would be divided into many Episodes. Each episode would then have three chapters. The first chapter was free, while the remaining two would be unlocked by our favorite salesman, Big Pauly. He would sell you a key to unlock the rest of the map via a small in-game purchase.
Being episodic, the gameplay would be very story and character driven. Lots of NPCs and story based goals for each of the levels. Looking back at the plans, it sounds like a pretty fun game.
So What Happened??
Well, after an intense round of development that lasted a few months, we had a working demo of the game engine. Unfortunately we had bills to pay, so we had to get back to work doing not-so-fun stuff like making websites for consulting firms. Papa Louie: When Pizzas Attack, although very popular, was not bringing in enough money on ad revenue alone. In order to make this Sarge game a reality, we needed to find funding for it.
We were also worried that by the time we could finish a game of this size, people would forget about the world of Papa Louie. So we started brainstorming about a different game, that we could feasibly create, and give our small fan base something to do until the next big game. That game would eventually become Papa's Pizzeria!
In the meantime, we pitched the Sarge game to several companies. One of those companies was Kongregate. They were looking for games to fund as part of their Premium Development Program. After a quick phone pitch about the Sarge game, we understood that they needed something much larger that incorporated multiplayer and a more robust micro-payment system. We were a little down that the Sarge game would be put on the back burner, but the idea of landing a game on Kongregate's Premium Development Program was a dream scenario. So we ended up pitching them several other games that would better fit into the program. One of them was a large, island hopping adventure game, and the other game which ended up getting green-lit was Remnants of Skystone.
With Remnants of Skystone, we were able to build off of the platformer engine that we created for the Sarge game. We even incorporated enemies and mission ideas from Sarge's game, albeit in a much more edgy/grittier fashion. Wrangling cute cow-like Mooners back to their mother became guiding explosive Embermites to their targets, and fuzzy Slender-Foots became creepy Stiltskins, just to name a few.
Papa Louie 2 & 3 were also based off of Sarge's game engine, and revisited a lot of characters, animations, and game ideas from that original planning session of Sarge's game.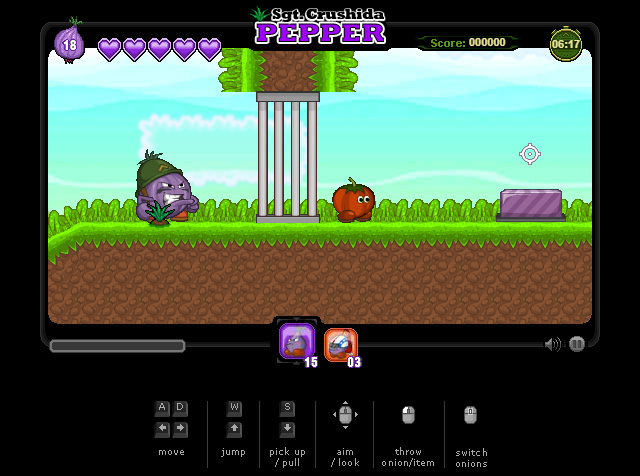 Ultimately, we would spend the next three years working on Remnants of Skystone. After that game was released and sadly proved to be unsustainable, we had to quickly find other ways to pay the bills. Unfortunately, at that time, making Sarge's game without funding was just way too risky. But for a game that was never fully realized, it has had a lasting impression throughout our entire gaming career.
By