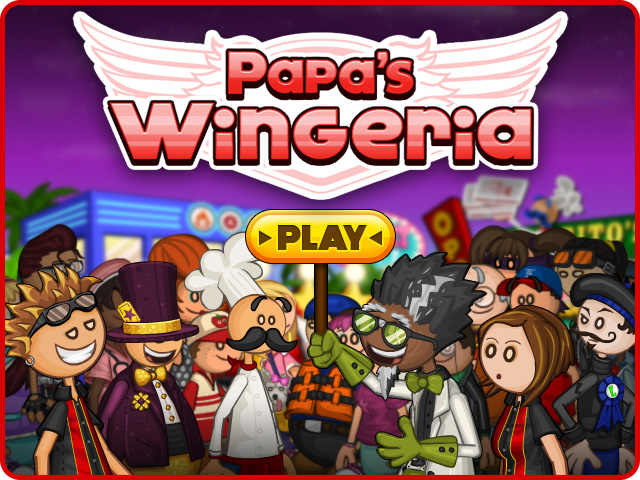 Whip up the hottest wings in town in Papa's Wingeria!
This must be your lucky day! You just won an all expense paid trip to Starlight City, the gaming capital of the world! But it doesn't end there, after a long bus drive, you try your hand at the Mega Prize machine and hit the jackpot! You are now the proud owner of Papa's newest restaurant, Papa's Wingeria. Only catch is that it requires a lot of work…. hope you like the night shift!
Welcome to Papa's Wingeria, the newest restaurant in the Papa's cooking games! Here you will have to keep your picky customers happy as they order tons of wings and things. Take orders, run the deep fryers, sauce the wings, and arrange them on a platter with garnishes and sides.
New to the series are the long awaited Custom Workers! You can now fully design your worker in endless ways like skin tone, height, facial features, posture, hairstyle and hair color. You will also be able to earn a wide variety of clothes and accessories for your worker through the clothing shop and mini-game prizes. The possibilities are endless!
Time-management cooking sim in the Papa Louie universe
Fully customizable workers with tons of clothes to earn
All-new deep frying, saucing, and arranging mechanics
Unlock a variety of meats, sauces, and sides
Over 70 unique customers to serve
7 fun Mini Games with 98 prizes to win
80 in-game achievements to earn
Fully customizable lobby, with close to 100 items to purchase
Weekly paychecks and raises as you level up
Free to play online!
So what are you waiting for?
Comments
Powered by Facebook Comments