Hey Everyone!
Big news today….. Papa's Freezeria HD is here! It is ready to play on  iPads, Android Tablets , Kindle Fires, and Nooks! Check out all the details on the official Papa's Freezeria HD site.
Get Papa's Freezeria HD  from your favorite app store!

In Papa's Freezeria HD, you'll be working at an oceanfront ice cream shop on Calypso Island, but your laid-back summer job gets hectic when all of Papa Louie's customers arrive on the island! You'll need to serve up delicious Freezer sundaes by pouring ice cream, blending mixable candies and syrups, adding whipped cream and toppings, and don't forget a cherry on top for that perfect summertime treat!
The time-management and hands-on gameplay seen in "Papa's Burgeria" is back, with plenty of new twists for serving ice cream treats. You'll need to watch the lobby for new customers arriving, add ice cream and goodies to sundae cups, keep an eye on the blenders mixing your ingredients, and add toppings and syrups before serving the sundae to your wacky customers.
This updated version of Papa's Freezeria features dozens of customers not found in previous editions of the game, as well as DOUBLING the amount of unlockable ingredients found in the original! We've also added new touch controls to make building and topping sundaes easier and more enjoyable on tablets.
You can choose to play as Penny or Alberto, or you can now design your own custom character to work in the Freezeria! Create a boy or a girl, with dozens of hairstyles, hair colors, skin tones, and facial expressions. You can even adjust your head size, neck, eye and mouth positions to make your character look just right.
You can also buy and earn new clothing for your worker, by playing Foodini's Mini-Games or visiting the Shop! Browse through hundreds of shirts, jackets, hats, pants, and accessories to give your worker that perfect look.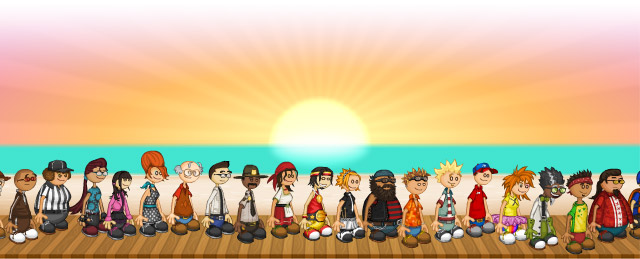 Comments
Powered by Facebook Comments