Question 1:
Why did you start adding seasons in Papa's Cupcakeria?
Answer 1:
While the Gamerias don't really have endings, we noticed a lot of players would keep playing the games until Papa Louie is unlocked (and sometimes longer). In the older games, you would run out of unlockable toppings much earlier than this, and there wouldn't be anything new to look forward to along the way aside from new customers. So to keep things more interesting all the way through, we thought of seasonal ingredients that would unlock for different holidays, where customers' orders would sometimes change throughout the year, and there would always be something new to add to their orders. You could also see the restaurant change with new decorations and see the town change with the seasons. Cupcakes seemed like the perfect food to introduce with seasons, since bakeries decorate cupcakes for all sorts of holidays.
Question 2:
Why don't the other holidays from Papa's Cupcakeria return in Papa's Pastaria?
Answer 2:
A lot of the holidays return, but the waterfront town of Portallini has its own local holidays and occasions that are more common to the region. For example, even though the town has its own baseball team in the Portallini Gondoliers, the Gondola 500 is the largest-drawing sporting event in the area, so the town celebrates the Gondola 500 every September. In August, baseball season pales in comparison to the traditional Neptune's Feast, where the townsfolk celebrate their love of seafood with festivals and feasts throughout the month.
Question 3:
When is the exact date of the Gondola 500, Pirate Bash, and Onionfest?
Answer 3:
The Gondola 500 is held on the last Saturday of September in Portallini. Pirate Bash is September 19th, the same day as the International Talk Like a Pirate Day. Onionfest is a week long celebration in the town of Frostfield and usually takes place the second week of May.
If you have any other questions, click the "Ask a Question!" button at the bottom of the blog!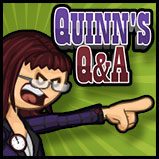 Comments
Powered by Facebook Comments