Hey Everyone!
For today's Sneak Peek, we wanted to show off the Mix Station for Papa's Freezeria To Go!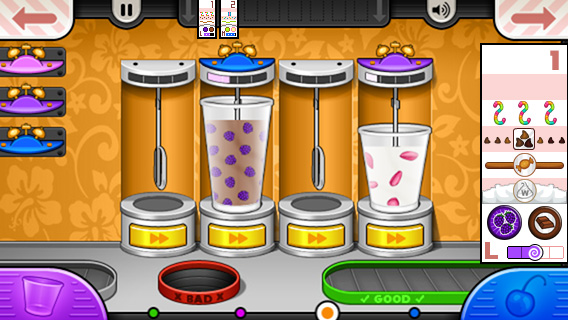 The first thing you'll notice that is different is the alarms. In the original and HD versions of Papa's Freezeria, each blender had three alarm buttons above the mix meter. However for the small screens of mobile phones, these buttons proved too small to easily and precisely press with a finger. So we decided to take a different approach similar to Papa's Burgeria.  Now you have 3 different types of alarms located on the left side of the screen that you can simply drag to the appropriate blender. Keep in mind that you'll need to use your tips to unlock these upgrades

You may also notice that the boosters no longer have meters above them. That's because these blenders won't burn out if you're nonstop boosting. Gone are the days of jostling around cups on the blender just to get a little more boost. Yeah!!
Stay tuned for more information on Papa's Freezeria To Go!
Comments
Powered by Facebook Comments