Harry Quantum 4: Doc Star
Harry's back! The Smash Rock band, Corned Beef Owls have gone off the radar and Harry has a mission from Percy the drummer to come to Loch Bess as something suspicious is happening. Play Now!
Swapster
Use your teleportation ray gun to swap the shapes around and destroy all the evil Swapsters.
Play Now!
Pixel Escape
A running game with drawing. Use magic ink to save the world, one pixel at a time! Play Now!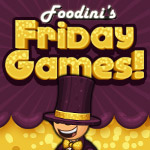 Comments
Powered by Facebook Comments