Super Adventure Pals: Battle Arena
After being eaten by a computer the pals must battle their way out in this pixel puncher action arena game. Using your giraffe and pet rock you will fight up against other imagined pals with the goal of winning the almighty tournament and escapling the computer. Play Now!
Spaceman Max 2
On his way to Mars, Spaceman Max falls into a massive crater. Guide him safely to the bottom while avoiding martians and traps. Play Now!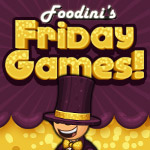 Comments
Powered by Facebook Comments