Johnny Upgrade
Johnny Upgrade is a cartoon super hero with no skills at all! Collect coins in order to afford the upgrades you need to beat the big arcade level and its evil boss! Play Now!
Big Time Butter Baron
A.P.Butterworth runs the most successful butter factory in the world, but he can't remain the biggest of the Big-Time Butter Barons without the right staff! Get to work on the factory floor packing the butter shapes as tightly as possible onto the board! Play Now!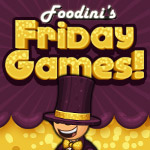 Comments
Powered by Facebook Comments